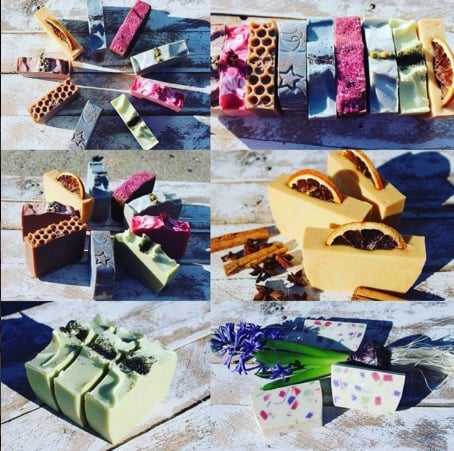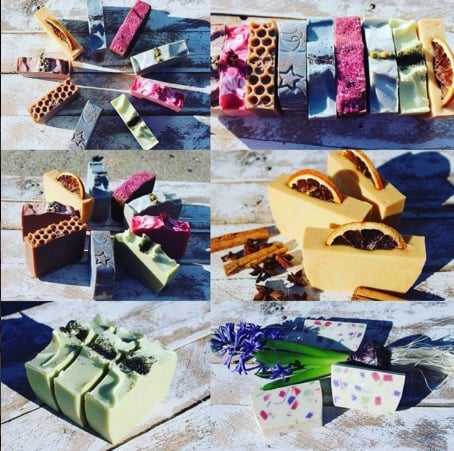 Earthy/Hippie Scented Soaps
$5.00
Each soap is uniquely different. Some are swirled, some are layered and some are all one color. I use fragrance oils, essentials oils and sometimes blends of both. Fragrances with a high content of vanilla will discolor over time. This is normal and no cause for alarm.
My normal soap base consists of olive, coconut, almond, avocado and castor oils, aloe vera, fragrance and/or essential oils, colorant (mica or clay), kaolin clay, sugar and salt. Sometimes additives such as herb infused oils, coconut milk, botanicals, pureed edibles such as cucumbers, spices and seeds are used. These will be noted in the description of each soap.
Soaps weigh between 4 and 5 ounces
Sweet Earth- A blend of sweetgrass, cedarwood and sage.
Vanilla & Sandalwood- The beautiful combination of luscious, rich vanilla, and earthy Indian sandalwood.
Hippie Skippie- A celebration of patchouli, cinnamon and cedarwood. SOLD OUT
Mermaid's Lagoon- Begins with top notes of ocean mist, sea moss, and dewy cyclamen petals; followed by middle notes of geranium flower, water mint, and coriander seed; sitting on base notes of white cedarwood and earthy vetiver. SOLD OUT
Sea Salt & Driftwood- A unisex scent. Clean ocean air brushes past salted driftwood and rests upon warm amber sand dunes. Topped with sea salt.
Sage & Sweetgrass- Sage & Sweetgrass- A clean and refreshing herbal fragrance. SOLD OUT