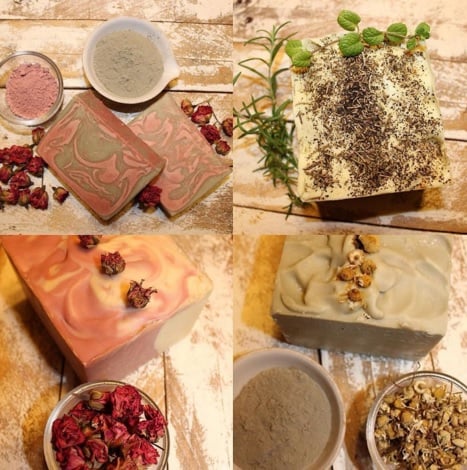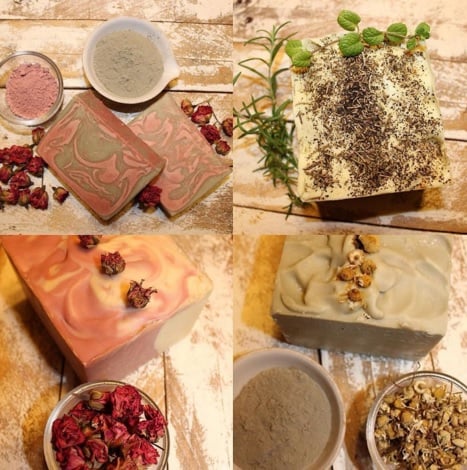 Herbal/Specialty Soaps
$6.00
These soaps are made with herb infused oils, botanicals, clays and essential oils only.
Soaps weigh between 4 and 5 ounces.
Tea Tree with Calendula- Made with calendula infused olive oil, coconut oil, sweet almond oil, avocado oil, castor oil, aloe vera gel, kaolin clay, sugar and salt. No colorant. Scented with lavender essential oil and tea tree essential oil topped with calendula petals. SOLD OUT UNTIL 09/07
Sea Clay and Cucumber- Sea Clay is mined from ancient sea floors. It is rich in iron, aluminum, potassium, and calcium; providing rich nutrients. It is said to helps remove toxins from the skin, provides gentle exfoliation, and helps remove dead skin cells. This soap contains over 10 ounces of fresh pureed cucumber in aloe juice in place of the water in the lye mixture. The olive oil has been infused with calendula and chamomile. Very lightly scented with only essential oils. SOLD OUT UNTIL 09/07
Sea Clay & Rose Clay- SOLD OUT
Scented with only Rose Hip and Lemongrass essential oil. Fresh cucumber puree and aloe vera are used in place of distilled water.
Rosemary Mint & Green Tea- SOLD OUT
scented with only the essential oils of rosemary and mint and contains brewed green tea in place of distilled water.